As I've gotten a bit deeper into this historic clothing stuff, I've learned that I really don't know a whole lot about fabric. To make matters worse, some of the fabric terms they used 150 years ago have evolved to mean something different now! Here are some of the terms that have caught me off guard.
Jean:
No, not denim, but "a different, lighter cotton textile" (
http://www.economicexpert.com/a/Denim.htm
). On the
William Booth, Draper
site, it is also called Kersey Wove Virginia Cloth.
I'm hoping the William Booth, Draper site info is still accurate for our time period as that site seems to be for a slightly earlier period.
It was a "strong twilled fabric" where "the cotton lays toward the wrong side of the fabric keeping the wool toward the outside and away from the body. In the 18th century this fabric is one of many types of Virginia cloth which was a homespun fabric usually made of cotton and woolen fibers. Kersey is both a fabric and weave and in the case of Virginia cloth indicates a twill weave. Virginia cloth of kersey weave was used to make durable cheep men's outer garments like breeches, jackets, coats, and waistcoats. Not all Virginia cloth had a kersey weave to it there were many other types of Virginia cloth" (
http://www.wmboothdraper.com/index.html
).
Image from:
http://www.periodfabric.com/JeanCloth.htm
Image from
http://www.wmboothdraper.com/Wool/wools_index.htm#jean
Muslin:
When I started doing my own reproduction sewing a couple years ago, I read that they used muslin. Yippee, it's cheap! I was disappointed to find out, though, that "modern cotton muslin is much heavier than period muslin, which was a fine, long staple cotton fabric, and was most often quite sheer." A modern option might be "imported sheer batiste, organdy, barred voile, dimity, and other very delicate, sheer articles" Elizabeth Stewart Clark,
The Dressmaker's Guide
. Not that I know what all of those are . . . .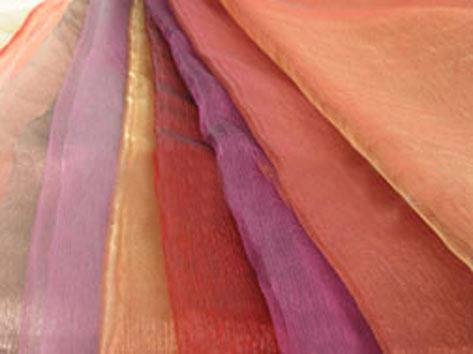 Voile image from
http://www.alibaba.com/product/textile2000-10771620-10331077/Terrylene_Fabric_Sheer_Fabric_Voile_Fabric.html
Checked Muslin:
A reader asked if gingham could be a replacement for checked muslin. My initial reaction was sure, they're both checked, right? Wrong again! Boy it sure is humbling to be wrong all the time!! ;-) Lovely Liz Clark clarified:
Unfortunately, no, gingham isn't at all like a checked muslin. . . . Checked muslin is white on white, with the "whiter" checks being made of more densely woven threads.
Flannel:
When I was making the "
Baby Frock
" in
The Workwoman's Guide
, I kept running across the word flannel, as in "first flannel gown" and "child's day flannel." I wasn't sure what it meant. Were these flannel PJs or what?
Elizabeth Stewart Clark mentions in
The Dressmaker's Guide
that when flannel was used back then, it commonly meant
wool
flannel, not the cotton flannel we use today.
Additionally, she mentions that is the same for
broadcloth
(wool, not cotton). Hmmm. Looks like my cotton broadcloth is wrong.
Lawn:
No, not the green stuff that grows in your yard. I think I heard that lawn can also be a modern substitute for historic muslin, I just didn't know what lawn was. According to
Silk Road
, modern "cotton lawn is a fabulously fine, sheer cotton fabric with a tight plain weave and a graceful drape. The finish may be soft or crisp. Not as stiff as cotton organdy. Lawn gets its name from Laon, France where it was first manufactured. Used to make baby clothes, lingerie, semi-fitted blouses and dresses. Sews easily, creases well."
Stuff:
When I first read "stuff" in
The Workwoman's Guide
, I thought it was funny that she was using the term like we use it today and stuff. However, the more I read, I determined that it must be a real fabric. I have not yet figured out what kind, but I'll update here when I do!
Aug 1, 2013: Ha!Ha! The
William Booth Draper
site explains "stuff" and other types of fabrics. This is great! "Stuff is a generic term for many types of worsted wools. Worsted wools are a good wool summer cloth."
2013: For underclothing (chemise, drawers, petticoats), modern Pimatex broadcloth or Kona Cotton works well. Percale sheets can also work.